🚲❄️🚲❄️🚲❄️🚲❄️🚲❄️🚲❄️
What we've been up to
BikeLoud PDX members joining to file lawsuit, Nov. 18th
E-Bike Policy Ride, Nov. 19th
World Day of Remembrance for Road Traffic Victims, Nov. 20th (video: Bike Stuff PDX)
🚲❄️🚲❄️🚲❄️🚲❄️🚲❄️🚲❄️

November Updates
Lawsuit Update
We are happy to announce that the local legal team at
Thomas, Coon, Newton & Frost
elected to join with Scott Kocher at
Forum Law Group
to represent BikeLoud PDX in our lawsuit against the City of Portland! We are excited to have such experience join BikeLoud PDX and offer their services pro-bono as we work through this once in a generation lawsuit.
Overall, this means we have profound knowledge, work output, and belief from these legal teams that we do indeed have a great reason to pursue the suit.
After filing the lawsuit on November 18th, a judge quickly signed the suit, showing that we indeed crossed our T's and dotted our I's as we move forward with the suit: fees waived!
Either way, thanks ALL for showing up and supporting BikeLoud PDX as we commit to hold the City of Portland accountable. We couldn't have gotten this far without the generous support of you, Forum Law Group, Thomas, Coon, Newton & Frost, and our dedicated members who have prepared the suit leading up to this month.
-BikeLoud PDX Board
E-Bike Bill
A draft e-bike rebate bill (LC 1994) is heading into the state legislature next year (Thank you Representatives Karin Power and Dacia Grayber!). BikeLoud PDX supports this bill and getting more e-bikes on Oregon's roads to replace car trips thoughout the state. It's currently being handed off to Representative Dacia Grayber (D- 35 Tigard), who will sponsor the bill this coming session. Email/call

your state rep

TODAY that you support this bill and wish to have their support come 2023!
End of the Year Recap
BikeLoud PDX has been BUSY growing, and using new ways to activate and get folks engaged and advocating for safer streets, and getting folks on bikes! This year:
Organized over

100+ rides
Signed over

15 letters

to PBOT, City Council, ODOT, and more
DOUBLED

our number of newsletter subscribers!
Partnered with over a

dozen local non-profits
Started a

Bike Buddy

program
Supported the weekly community-led Sundays on Going

event!
Handed over 3,000 stickers promoting

#BikeLove, and

#PDXbikes
So much more!
Lastly, we couldn't have done any of the above without you: our subscriber and fellow BikeLoud PDX member.
Thanks for all the support you've done, and we know it in our hearts we can do so much more when everyone becomes the advocate they dream they can be. We hope to see you soon at an event/ride/meetup and if you can: please donate to support our cause as we continue to reach 25% Portland trips by Bike by 2030
#25by2030pdx
January 2023 Board Elections
Interested in becoming a BikeLoud PDX board member? We currently have 5 vacancies in our board and would love to have committed, passionate, and representative people join the board!
See
here for a quick description
of responsibilities of Board Members.
Board Elections will take place at our next general meeting January 18, 2023.
Interested? email bikeloudpdx@gmail.com to express interest. Our board elections will occur at our Janurary 2023 general meeting.
🚲❄️🚲❄️🚲❄️🚲❄️🚲❄️🚲❄️
December 2022 Rides and Events

BikeLoud PDX N/NE - Overlook Rake and Ride
Sunday, December 11th @ 10:00am
Meet at

Stacks Coffeehouse
Come join and help rake leaves from some of North Portland's most critical bike connections: the Interstate Ave hill and the Greeley Bike Path! Event is being led by Nic Cota, BikeLoud PDX Board member and Overlook NA Transportation Chair. Coffee will be provided at the end for all who join!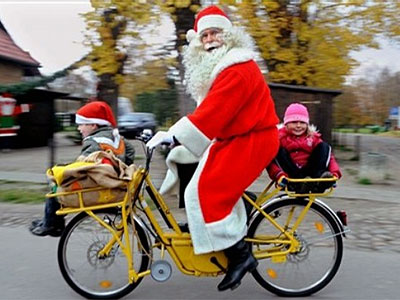 BikeLoud Holiday Lights Ride
Saturday, December 17th @ 4:30pm
Meet at

SE Main MAX Station (Green Line)
Join BikeLoud for a holiday light bike ride followed by food and drinks. Of course we will also be reviewing infrastructure! This is our final event of the year. We will ride through the Starkwood Holiday Lights (the Peacock Lane of East Portland) and end at Stark Street Pizza. We will be looking at some of the new greenways in East Portland.

BikeLoud PDX General Meeting - December Meeting

Postponed
Join the above ride instead for this month! See you January 2023!
🚲❄️🚲❄️🚲❄️🚲❄️🚲❄️🚲❄️
Other Rides/Events (click links for details):
BikePortland Pitch and Bitch
Wednesday, December 7th @ 5:00pm
Migration Brewing (N Williams Ave)
Join local blog and bike new-source BikePortland for a first-in-awhile in-person event to meet other bike advocates and let BikePortland what you think they could do better! A great opportunity to meet a variety of voices and learn how to plug in to biking in Portland!

Breakfast on the Bridges (Holiday Edition)
Friday, December 9th @ 7:00am
Most Willamette River bridges. see line for more info!

PSU Farmer's Market Ride
Every Saturday!
Meet at:
SE Clinton/41st @ 10 am
SE Clinton/26th @ 10:10 am
Tilikum/PDX opera @ 10:30 am
Join BikeLoud PDX member Hami Ramani (@hamiramani on twitter) for what's become a great go-to year-round event for all BikeLoud members who want to meet each other, support farmers, makers & bakers, and build community for all-ages & abilities.

Always check out

shift2bikes.org for all 🚲 events in PDX

🚲❄️🚲❄️🚲❄️🚲❄️🚲❄️🚲❄️



More infrastructure News
Check out

BikePortland.org

for all things biking in Portland.
🕫

Last but not least: Keep Biking LOUD!



Always check

here

for PBOT's Projects in the Pipelines. Email and call project managers to let them know your thoughts.

Report leaves, debris, and cars in the bike lane using

pdxreporter